NEW! JUUN 25 aluminium blind
NEW! JUUN 25 aluminium blind
​​
New, irresistibly functional control system. Trendy colours. Safe and durable structure fitting perfectly into all kinds of interiors. This is "Juun 25".
---
stands for:
Functionality – unprecedented freedom to control the amount of light entering the room,

​Safety – no cords or operating ball chains,
plus:
Light and durable aluminium construction
High versatility (child safety, humidity resistant, traditional form)
Quick and easy measurement
Non-invasive mounting on the window casement
8 popular system colours available as standard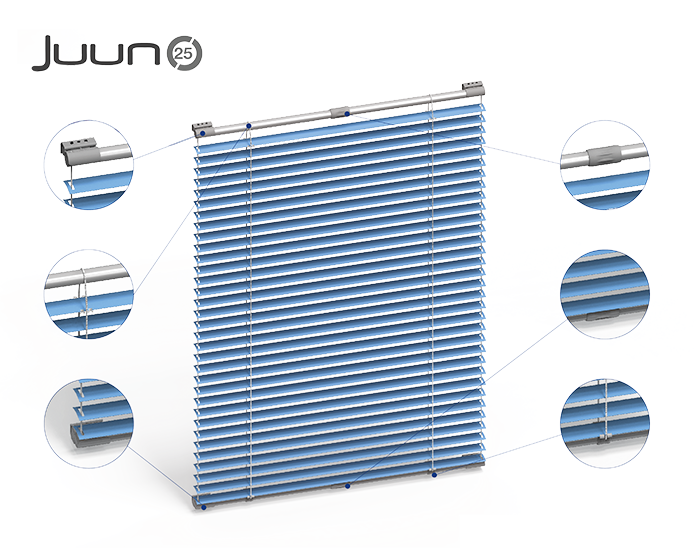 ​
---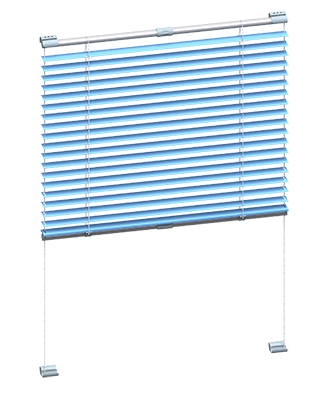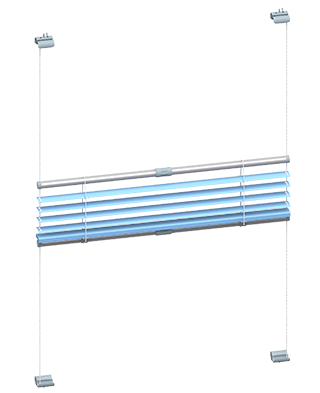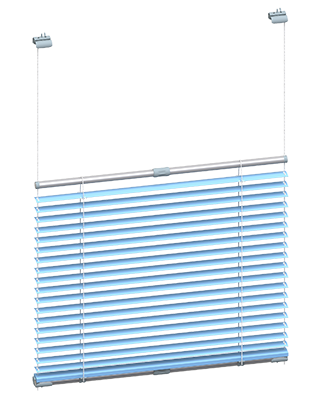 ---
Dimensions:
| | Min. | Max |
| --- | --- | --- |
| Width | 300 mm | 1200 mm |
| Height | 300 mm | 2200 mm |
---
MEASUREMENT AND MOUNTING
On your order form please specify the total width and height (see the drawing):
(click to enlarge)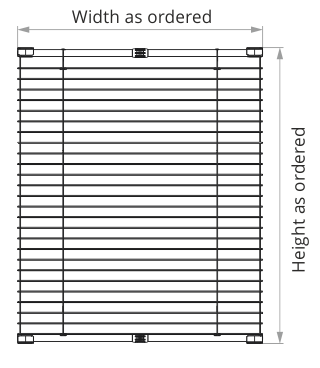 Different mounting methods – on glazing beads as well as on window casement (using non-invasive brackets).
​(click to enlarge)
If "D" brackets are to be used to mount the blind, please specify the height of the window casement when ordering:
​(click to enlarge)

---
COLOURS OF ACCESSORIES
Accessories are available in 8 standard colours: white, creamy white, beige, silver anode, anthracite, basalt grey, black, brown; at an extra charge (see price list) any other RAL colour is also available.
Plastic components are colour-coordinated (8 colours). Standardised colours of cords and cord ladders are coordinated with the colours of accessories.

​




​

​

---
COLOURS OF ALUMINIUM TAPES
JUUN aluminium blind comes with 25 mm aluminium tape from Anwis collection (except perforated). The range of aluminium tapes suitable for the JUUN blind features 85 colours.
See colours:
---
PRICES
See Anwis price list (edition 2019) for our JUUN aluminium blind offer (page 10).:
​
---
ORDERS
You can order JUUN aluminium blind by sending a completed order form to Anwis Customer Service Department
---
MARKETING SUPPORT
Please contact the Customer Service Department regarding availability and conditions for obtaining our marketing materials.
SYSTEM COLOURS CATALOGUE
a catalogue in the shape of a box with magnetic lock displaying colours aluminium accessories and plastic components are available in; plus the collection of aluminium tapes samples for the JUUN blind


​
MODEL OF THE FINISHED PRODUCT
LEAFLET (pdf version - click to download)

PICTURES for the website

DOWNLOAD